November 2008
Once I was past my rehab for my shoulder, in late March 2008, I started to visit my galleries in San Diego, Boston, Seattle, San Diego [ actually La Jolla ] again, New Orleans and Santa Fe. It was great being on the road agin, visiting old friends and new collectors. Now I am concentrating on getting more work done, and finding new galleries to show my work in
November 2007
I had to have surgery on my left shoulder due to a nasty fall I took in the local Target. An employee had been unpacking some items and left some of the plastic strapping bands they use on big boxes on the floor. Since they were the same color as the floor, I didn't notice them, and I got tangled up and took a very hard fall. Not only was my rotator cuff torn, but I also suffered a SLAP Lesion [ that's a tear to the inside of the shoulder joint caused by a fall on an outstretched arm ]
The surgery was a success, but was extremely painful, and the recovery and rehab was grueling.
I really wasn't up for travelling or doing demonstrations until March of 2008
Coming Up
I have upcoming shows in Pittsburgh and Milwaukee. My new gallery in Pittsburgh is Bella Arte. While I'm up there, I'm going to a Light Up the Night party at a collector's house, who is also an investor in my Lake Tahoe gallery. Light Up the Night is Pittsburgh's way of kicking off the holiday season. There is a big fireworks display at the end of the night that I'm really looking forward to.
October 2007
I just got back from a one-man show in Sedona that coincided with a feature article about my work in "Sedona Monthly" and "Art Book of the New West."
September 2007
I had a one-man show and demonstration in Lake Geneva. Gorgeous resort area outside of Chicago. Bob and Sandy were amazing hosts for my show and demonstration.
August 2007
I had a show in San Francisco and Bethlehem, PA. I returned to one of my favorite cities for a show and demonstration in San Francisco. Don, Rese and I had an amazing time. I can't wait to get back there. I went to Bethlehem for the second time. I had a blast with Ranjeet and Rory.
July 2007
I had shows in Seattle and Santa Fe this month. In Seattle, I showed at Gunnar Nordstrom's. Nobody throws an art crawl party like Gunnar! In honor of my visit, the bartender in the gallery was making peach mojitos. Umm umm. My show in Santa Fe was at 707 Contemporary followed by an amazing meal at Geronimo's.
June 2007
I had a show in Kansas City and a vacation in Jackson Hole, WY that inspired a series of new paintings that include views of the Grand Tetons.
May 2007
I decided to switch back to my original gallery in New Orleans in May, B.E.E. Galleries. They sold so much work the first weekend that they had me back in the gallery, I had to make a second visit the following week.
October 2006
Another installment of Bob, Beer and brats just happened at my gallery in Kansas City.
It was a special treat to finally meet a nine year old boy named Jackson who follows my work. He comes in the gallery every few weeks to see if I've sent anything new. Recently I gave him a painting which his Mom and Dad had framed up. While he was visiting he helped out for a little while on one of my paintings.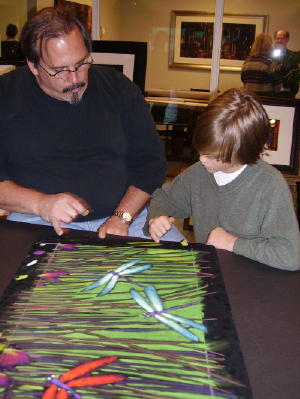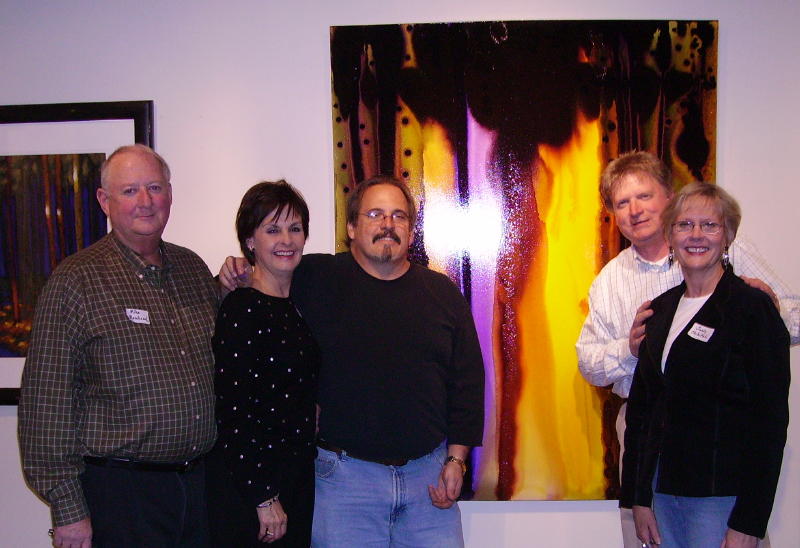 Mike and Brooke, owners of Prairiebrook...me...and Bob and Sandy from Gallerie Matisse in Lake Geneva Wisconsin, my newest gallery. Bob and Sandy made a special trip to Kansas City for my show.
May 2006
Just back from a great trip to Sedona. My friends at the Proctor Gallery arranged to have me showcase my work in wonderful designer house on the Art and Architecture Home Tour that benefits the Northern Arizona Opera League. Here is the view from the window where I was painting, plus a couple others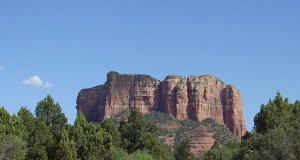 click to enlarge any image.
April 2006
Back to New Orleans for the opening weekend of Jazz Fest. As usual, I had a blast with Ron and Taylor Lyon,
the owners of my 2 galleries there [ Lyon and Lyon and Galerie DalRay , both on Royal st. in the French Quarter ]
As you can see in the following pictures, I received a little help while doing a demonstration from Lauren, the Neice of my friend and client Steve Nettles.
After the demo Steve and his sister's family joined me at Nola's fror drinks....we had a great time. I'm anxious to visit them in Houston some day.

February 2006
So far this year I have only been toDallas, New Orleans and Kansas City.
I flew into Dallas to touch up a painting that was a special commission. It only took a few minutes to repair the piece and then I spent the rest of the afternoon with my client Tom Bartlett.
In the French Quarter, you can't really tell that a hurricane came through, but on the way in we saw quite a bit of devastation in Mississippi and outside of New Orleans.
My gallery i n Kansas City, Prairiebrooke Fine arts, asked me to design and paint a special piece for the designer showhouse benefitting the symphony. I flew in to look at the space to get inspired.The place should be spectacular when it's finished. The house belongs to the Block's from H & R Block fame. The piece is a red sky landscape triptych.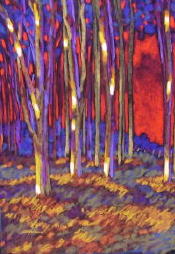 I started taking piano lessons about a year ago and have been working hard to learn a few songs I like. I also joined a co-op pottery studio and have been throwing pots on the wheel for about 4 months now.
click on image to check out my pottery page

2005 Travels Update

I had to have major reconstructive surgery on my right shoulder on January 25th [ and yes, I paint with my right hand ].....but I am recovering well. I was doing small pieces 3 days post op in a sling and am now 12 weeks out and doing full sized pieces, although I don't have the strength back yet to frame them. [ which is OK, because I hate framing, so I'm paying someone else to do it]
As soon as I was able to travel [ and paint ] I had to fly out to my gallery in San Francisco to paint as they were running low on work. I had a blast with Don and Rese Cohen as usual...and as usual Don and I were out every night.
Ten days later I was in Bethlehem Pennsylvania for a one man show at Monsoon gallery. The Morning Call did a nice review available here. Bethlehem is undergoing quite a renaissance and since it is only an hour or so from New York city it really has a lot of potential. The owner Ranjeet is an accomplished photographer and artist himself. The people of Bethlehem are very welcoming and I had a great time while I was there.
Then a couple weeks later, my buddy Roger Fishman and I went to the playboy mansion in LA for Hugh Hefner's birthday party on May 9th....it was CRAZY. I was only in LA for less than 24 hours, but it was one of the coolest nights I've ever experienced. It was fun people watching and seeing all the celebrities there, Bill Maher was my favorite [ of the non bunny variety ].
I had another showing in New Orleans April 20-24 to coincide with JazzFest that was very successful and I got to hang out with one of my clients Dr. Eric Gregorie a Neurosurgeon from Pennsylvania.
Later in August I had my yearly show in Santa Fe, it went so well I had to do a follow up visit in November.....here is me with a couple friends...